My wife heard about it first via email. The next day I began to receive emails from people locally and as far as Iowa. They wanted to know if we would be joining them on the picket line. They wanted to know how we as a church would show the compassion of Jesus. Whether someone is pro-amnesty, anti-immigration, pro-immigration-reform, or whatever label they prefer, everyone seems to expect the church to do something.
So let me give some thoughts on how we, as a church, should think, feel and respond to this…
1) You should be thankful.
a) Whatever your view of immigration, be thankful that illegal immigrants are treated compassionately. If you lament the practice of abortion, you should then be thankful that medical care for life-threatening issues is routinely provided, regardless of ability to pay or citizenship. It would be criminal if the critically injured were simply left to die. Additionally, pregnant and nursing moms are able to receive public assistance, regardless of their citizenship, and their U.S.-born children qualify for Medicaid if the family is low-income. It is good that our government cares for those in need, as our churches and communities no longer carry this burden.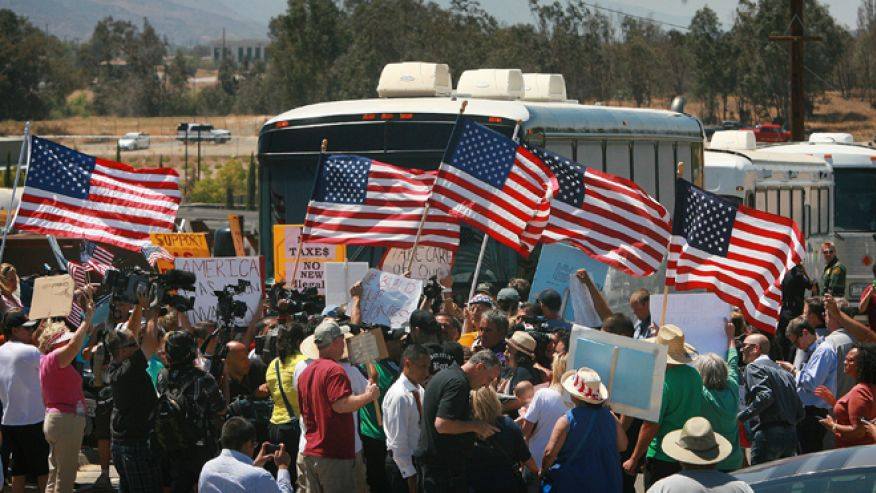 b) Whatever your view of immigration, you should be thankful that you are living in a country into which other people will risk life & limb to gain entry. No matter your view of our government and our culture, simply survey the world and you will discover that there are very few options equivalent to what's available in the United States. There is good reason that so many people want to immigrate here and so few people seek to immigrate out of the U.S.
c) Whatever your view of immigration, be grateful for the unique freedoms that we all enjoy. Whether you despise or admire those who turned back the buses in Murrieta, please recognize and celebrate that no shots were fired, no one was physically hurt, the government didn't jail all the protestors, and the protestors were able to express their views without repercussions to their families, their jobs or their futures. That ability to express your thoughts publicly and even call for change is more rare than we like to think.
2) You should be frustrated.
a) Current government policies are conflicted. Compared to the pool of applicants, the U.S. does not permit very many visas for legal entry here. Though our country was established and populated via immigration, the policies of the last few decades have been quite exclusionary. At the same time, when someone crosses the border illegally, our government no longer shuts the doors to them immediately. Our borders are wide, long and porous. Employers of immigrants are fairly ignored. Law enforcement does not actively seek out illegal immigrants nor deport all that they encounter. Illegal immigrants that bear children in the U.S. automatically gain citizenship for their kids here. Our government is sending the message that your best shot at entry is to break the law, and that if you can make it here safely, you will be rewarded.
b) Our government policies remain unchanged year-to-year. There is virtually universal agreement on its necessity; the challenge is finding consensus on how. Last year the Senate passed a comprehensive immigration reform bill. The House is unwilling to pass the Senate bill. The President is issuing executive orders to help in ways that he thinks best. Your concern over our government's immigration debacle is good. Elected officials are to act as your representatives. If you do not tell them what you think, they are unable to rightly represent you. Our government has mechanisms by which you are able to seek change in areas you disagree. You have the right as a citizen to seek those changes. You can vote, petition change, lobby elected officials, and even run for office. Seek change by the mechanisms that U.S. law provides.
c) Illegal immigrants have had an unnecessarily hard road. The journey to enter America illegally is not an easy stroll through a suburban development. In fact, the challenges are quite risky. Dehydration and hyperthermia are the two most common causes of migrant death. Robbery, rape and abandonment are frequent hazards on the journey north. On the journey and afterwards, immigrating families are often split apart and unable to find one another again. Upon arrival, they enter a country where they do not know the language. Consider how tough their life at home must be to risk these things in order to arrive in the U.S. illegally. How much better would it be if immigration was reformed and the risks of illegal immigration outweighed the benefits?
3) You should be grieved.
a) Our neighbors and our nation are hearing what is said locally. I wince as I read some of the quotes published by newspapers. I fear that people are not hearing your frustrations with the government, but instead believe that they hear us spouting race-based vitriol and hatred? Your concern may be with our own government, but that is not what is getting the most airplay. Be grieved for how our community is being represented. Be especially grieved for what your hispanic friends, coworkers and brothers in Christ may have heard you and others say.
b) Illegal immigrants arriving by bus and those who live here now all think they know how you feel about them. Whether you agree with the picketers or not, the public perception is that our community is against immigrants and/or Hispanics. This should cause incredible sorrow in our hearts. As one woman said, "I've lived here for 12 years and I've never felt different until now." Be very concerned with how those who arrive may perceive our frustration with our government as a real hatred of them.
c) Real racism has manifested itself in Murrieta. The town hall meeting proved that. Yesterday I received an email suggesting that segregation is biblical and not sinful, arguing (poorly) that we should return to a ethnically segregated world. As you consider your feelings on immigration, this is a perfect time to consider your own heart on race. Is it possible that you are racist and simply never realized it until now? Have you spoken to those you know whose rhetoric has lacked love?
Love is patient and kind; love does not envy or boast; it is not arrogant or rude. It does not insist on its own way; it is not irritable or resentful; it does not rejoice at wrongdoing, but rejoices with the truth. Love bears all things, believes all things, hopes all things, endures all things. (1 Cor 13:4-7)
In heaven, we will be united in a great crowd of people from every nation and tribe, all worshipping Jesus together (Rev 7:9). Are you ready for that? Are you sure that your concern is not with the people? Would you feel the same way if it was a bus full of Canadians who were arriving here?
4) You should be compassionate.
It is sad to read that there were more arrests on the July 4 protests than occurred on July 1. The buses never came, but five went to jail after scuffling with officers. You will talk to locals with a different view on immigration than you have. You will talk to illegal immigrants. And we will probably at some point have illegal immigrants processed at our local Border Patrol station.
You are called to show compassion to others. 1 John 3 says that love for others is a hallmark of our faith in Christ. "Little children, let us not love in word or talk, but in deed and in truth" (1 Jn 3:18). We manifest this love for others because we know the greater love of God for us in Christ. Our love for others should look strange to the unsaved. How do you look right now?
Finally, all of you be of one mind, having compassion for one another; love as brothers, be tenderhearted, be courteous; not returning evil for evil or reviling for reviling, but on the contrary blessing, knowing that you were called to this, that you may inherit a blessing. (1 Pet 3:8-9)