Editor's Note: There is a good chance that you, the reader, have personally have experienced a miscarriage. For some, the pain of that loss can endure for a long time. Our hope is that this article would not provoke your pain, but would draw you to trust more deeply in God's ways. Although emotions may remain raw and tender, know that there is a surpassing peace of God available through Christ (Php 4:7).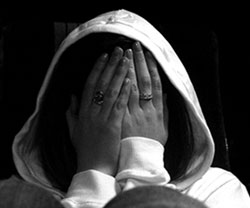 Over the past year, I had the painstaking privilege of watching my dearest friend, Noelle, trust in the Lord through the loss of 3 babies. Although the world considers these losses to be simple "miscarriages," as Christians we know that life is much more precious than a simple collection of tissue. I have watched the painful and unthinking words wash over her as people have tried to comfort her — "don't worry you'll have another" or "at least you already have a child." I have seen her grow in her faith as she continually seeks the Lord, desiring to make biblical decisions based on God's grace, and not fear in all the medical treatment she has received. But what I have struggled to see and understand has been God's sovereignty.
When I look at the most painful events in my life, I find comfort knowing that God used those circumstances to finally break my pride and self-sufficiency and bring me to the foot of the cross. Until her most recent miscarriage, I identified myself with Job. I had lost everything in my life and then God restored it! I praise God for that, but I failed to realize that there is a significant difference: Job loved God throughout the trial!
If asked, I would quickly reply that "yes, believers suffer," but hidden in my heart was a deep root of pride that somehow believed that if I did the right things I wouldn't suffer. My heart cried out to God during her first miscarriage, "Lord, she is a MISSIONARY! In KENYA of all places! Her daughter sleeps with a mosquito net and she has to worry about lions! HOW COULD YOU TAKE HER BABY from her?"
I had convinced myself that as a Christian, I wouldn't have to suffer. I recognized that suffering brought me to Christ, but I never wanted to endure pain again, so I allowed myself to cling to a faulty view of sovereignty. (Sovereignty speaks of God's authority as the supreme ruler.) In the book of Job, we see that Satan can do nothing without God's permission, but God's all-consuming power doesn't guarantee that all of life will be peaches and roses. In my mind, I thought "surely if God is all-powerful, then He will give Noelle her baby back!" Even though I was reading James and sharing Scripture with Noelle, I failed to remember:
Count it all joy my brothers, when you meet trials of various kinds, for you know that the testing of your faith produces steadfastness and let steadfastness have its full effect that you may be perfect and complete, lacking in nothing. — James 1:2-4
And we know that for those who love God all things work together for good, for those who are called according to his purpose. For those whom he foreknew he also predestined to be conformed to the image of his Son, in order that he might be the firstborn among many brothers. And those who he predestined he also called, and those whom he called he also justified, and those whom he justified he also glorified. — Romans 8:28-30
God did and does have the power to save the babies in the womb of a mother and yet He often chooses not to. The Lord's ways are not my own and Noelle did lose that baby. Although it was very difficult for her, she praised God. I watched how her mourning for the loss of life turned to rejoicing for the gift of God's eternal life and thankfulness as she reflected on all Christ has done for her. I was pregnant with my third baby at the time and she completely rejoiced for me and encouraged me. I never saw bitterness or envy in her. She faithfully praised God and constantly sought to glorify him in her actions.
When Noelle became pregnant again, we rejoiced! She was completely peaceful and had very little fear. She wanted to trust God and she did. Shortly after that news, we learned that she had lost her second baby and again I found myself questioning God. "Why did you let me keep my baby and take hers?" About a week after she lost the baby, I found out I was pregnant with my 4th child. My heart rejoiced for the pregnancy, but broke as I imagined the pain she would feel knowing I would again have a child and she lost hers. By God's grace, she rejoiced for me. I had to face fear as I wondered if God was preparing me for the loss of my own child and, as that fear crept up in my mind, I was encouraged by her as she again endured another miscarriage and yet completely sought to glorify God.
I never knew fear until I became a parent. It's hard to trust God with your own life, but it's nearly impossible to trust him with the life of your child. I have to keep reminding myself that God is sovereign, but that doesn't mean I will never suffer or that my children will never suffer. I have to trust that God's ways are higher than mine and, as we saw in Romans 8:29, He is "conforming us to the image of his Son" and let's face it–that can be a painful process.
Although I have not experienced the pain of miscarriage personally, watching my dearest friend go through it repeatedly has taught me so much about God and the power of the Spirit to work in and through believers. Noelle and her husband, Jacob, named their precious babies Hope, Joy, and Peace. That seems so perfect to me, as I have seen God pour out His Hope, Joy, and Peace in their lives through this process.
Although I am still mourning the loss she endured, I am starting to see God in a new way through her suffering. I pray that one day God would find me worthy to glorify Him in such painful situations.