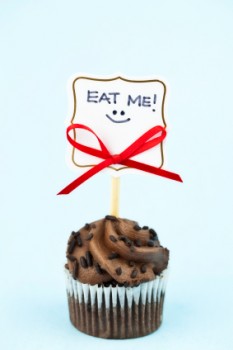 In his book Boomerang, Michael Lewis states, "A person on a diet who sensibly avoids coming face-to-face with a piece of chocolate cake will find it hard to control himself if the chocolate cake somehow finds him."
The term Madison Avenue is used metonymically to describe the advertising industry in America.  If there is one thing Madison Avenue understands, it is how to get the proverbial chocolate cake in front of consumers.
1 John 2:15-16 says, "Do not love the world nor the things in the world. If anyone loves the world, the love of the Father is not in him.  For all that is in the world, the lust of the flesh and the lust of the eyes and the boastful pride of life, is not from the Father, but is from the world."  The ESV translates "boastful pride of life" to "pride in possessions."  The phrase has the idea of arrogance over one's circumstances, which produces haughtiness or exaggeration, parading what one possesses to impress other people.
"The world," as John calls it, is the spiritual system of evil dominated by Satan.  All that it has to offer is in opposition to God.  Worldliness covets the esteem and praise of people.  It wants popularity and weighs success by numbers.
When I was a boy growing up in the 1950s and 1960s, there were far fewer conduits to worldliness than there are in the 21st century.  C.J. Mahaney says that Christians in America don't risk martyrdom, but we do risk seduction.
God reminds us in Jeremiah 17:9 that our hearts are idol factories.  If we call ourselves Christians and view the world as High Definition and the church as 1950s black-and-white TV, we either need a heart transplant or some major surgery to relieve the blockage.
Though it dazzles, the world has the seeds of deterioration and destruction.  Next blog, we'll take a look at the failure of so many of the world's systems.  We'll discuss how those failures may have changed our personal economies, because our expectations were so dependent on their success.