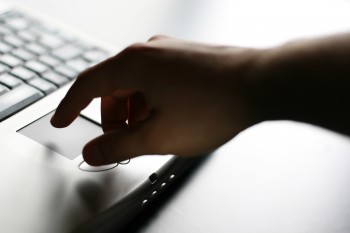 I sat down for a few minutes yesterday afternoon while my kids were sleeping to read a few blogs. I've recently been convicted by a series on the Girltalk blog discussing our online habits. A few of the posts that dealt with the amount of time we spend on the computer stung a little.  Facebook or personal blogs are not usually a huge time-waster for me.  However, my 10-year high school reunion is next month, and, due to the planning of that event, I have been "re-connected" with classmates I hadn't heard from in years. I have spent more time than usual catching up on the past few years in many of these old friends' lives. While this isn't necessarily a sin, I do need to be careful that I am making the most of my time and not sacrificing other things I need to be doing so that I can sit on the computer.
What really hit home though was a post on the helpfulness of Internet reading. Fear is a sin I have battled with for as long as I can remember.  As I've learned better what trusting God is and how God's sovereignty and promises are the perfect antidote to my fear, I've seen it change a bit but I have nowhere near overcome that sin yet.  I continue to train my mind to dwell on Heaven more, but as I result, I've also found myself thinking more about death and sadly, my fear of it. I don't usually fear my own death, but I do find myself fearing the death of my family and friends.  In this post, the writer mentioned that anytime she reads a particular parenting forum, she begins to feel anxious about her own children and family, wondering if these stories are warning signs to her that her family is on the brink of disaster.  As I am writing out her thoughts now, that almost seems ridiculous to me…yet, I can totally relate. What can start as a good intention can lead to 30 minutes of reading old posts about sickness in a family, and I find myself on the verge of tears. Once I catch myself, I realize I don't even know this family but somehow came across this blog through a friend of a friend.  While I firmly believe that it is good to pray for families in tough situations—regardless of if I know them or not—spending time following these blogs is not helping my anxious heart.
The writer of that post goes on to say that when she mentioned this to her husband, he wisely told her to stop reading. Simple enough, right?  She mentions 1 Corinthians 6:12: "All things are lawful for me, but not all things are profitable. All things are lawful for me, but I will not be mastered by anything," and encourages the readers to take that mentality and match it up against their online habits. I began thinking even over the past few days of how applying this principal could have saved me from areas of sin. I was reading an article on MSNBC about a student at orientation week at my college who was killed in a beach accident last week. I finished the article and started reading some of the comments. About 10 comments in, I found myself angry and bitter at how harsh people were being. Was reading that helpful to me? No.  Could that bitterness have been avoided? Yes!
I love how simple and clear the Scripture is! Philippians 4:8:"Finally, brothers, whatever is true, whatever is honorable, whatever is just, whatever is pure, whatever is lovely, whatever is commendable, if there is any excellence, if there is anything worthy of praise, think about these things."
Most of the time, if I just stop at the first qualifier–"Whatever is true"–I would save myself a lot of heartache. I tend to live in the "what if" world, and filling my mind and time with stories of sickness, tragedy and fear do not help! This writer finishes her post with this statement, "With that in mind, less time on the Internet and more time in God's Word seems, in what must be a massive understatement, helpful." That solution seems simple enough, and by God's grace, it is doable too!