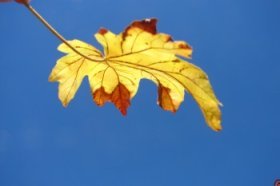 This past week, the dawning of a new era school year came over the horizon. With this occurrence each year comes great things like buying new school supplies, the transition from 100 degrees to cooler weather, the hint of the holidays in stores, anticipation for menus with stews instead of salads, anticipation for the three Charlie Brown classics, football season and great opportunities to get involved in the church body! (That is beyond showing up for service on Sunday.)
Interestingly, most of us enjoy this time of the year for one or more of these reasons. However, there are two reasons that only half of us seem to look forward to: football season and getting more involved in the church body.
Now, while I don't condemn either, I do question the 50% that don't look forward to football – what is there not to love? The pads and helmets, the hits, the amazing acrobatics, the strategy, the risk, the fresh cut grass crunching beneath your cleats and the adrenaline pumping on the line of scrimmage – how could it get any better?
However, the 50% that don't really look forward to getting involved more in church, I do understand. I used to be one of those. Then, a few years ago, I began to understand the design of the body and the importance of obedience to God's direction.
So, if you are like I was—not really looking forward to getting involved at FBC right now—let me walk you through a "top-ten" list of scripture to help you understand why I now look forward to getting involved in ministry so much so that I will occasionally even miss a football game or two.
We help one another grow: "Iron sharpens iron, and one man sharpens another."   -Proverbs 27:17
We have strength in numbers: "And though a man might prevail against one who is alone, two will withstand him—a threefold cord is not quickly broken."  -Ecclesiastes 4:12
We invite Christ to fellowship with us: "For where two or three are gathered in my name, there am I among them." -Matthew 18:20
We are a testimony to the unsaved: "That they may all be one, just as you, Father, are in me, and I in you, that they also may be in us, so that the world may believe that you have sent me." -John 17:21
We are one body under Christ: "For just as the body is one and has many members, and all the members of the body, though many, are one body, so it is with Christ." -1 Corinthians 12:12
We help each other when we are overwhelmed: "Bear one another's burdens, and so fulfill the law of Christ." -Galatians 6:2
We help one another become assured of our faith: "That their hearts may be encouraged, being knit together in love, to reach all the riches of full assurance of understanding and the knowledge of God's mystery, which is Christ." -Colossians 2:2
We encouraged one another: "Therefore encourage one another and build one another up, just as you are doing." -Thessalonians 5:11
We help one another be obedient to God's Word: "And let us consider how to stir up one another to love and good works . . . Not neglecting to meet together, as is the habit of some, but encouraging one another, and all the more as you see the Day drawing near." -Hebrews 10:24-25
We are in fellowship with the Father and the Son: "That which we have seen and heard we proclaim also to you, so that you too may have fellowship with us; and indeed our fellowship is with the Father and with his Son Jesus Christ." -1 John 1:3
When you review these scriptures, there are three basic reasons that the Lord has commanded us (Hebrews 10) to be in fellowship with one-another: (1) to help each other; (2) to be a witness to those who are watching us live out our Christianity; (3) and, in being in fellowship with one-another, we are in fellowship with Him. Once I realized that being involved in the body was more than Sunday attendance and was all of this, becoming more deeply involved was really a "no-brainer".
So, if you are out there now, still on the fence, trying to think of excuses you should not have to be involved beyond Sunday morning . . . stop. It's unhealthy and you are ignoring God's Word. Find an RMG, commit to going and getting to know people, and commit to being an active member of the body.  No one really wants to be the "wart".
Who knows, someday soon, you too will be so excited about being involved that you will find yourself missing football games. And, if you are one of the 50% who don't like football anyhow, you have nothing to lose!