Note: Rick Holland will be teaching at our upcoming Couple's Retreat in February.  If you are unfamiliar with Rick, get a copy of his book at the book table and take the chance to discover what a great teacher we have to look forward to. Signups for the retreat will begin October 19!
I have a problem. There's a lot going on in my life. Even though I am now retired, I get very busy. I know all about priorities, but sometimes they get messed up. Then I hear a sermon about having a passion for Christ and get convicted. Too many things have gotten in the way. I have left my "first love."
The book of the month helps me. Uneclipsing the Son by Rick Holland is a book that challenges me to keep Christ first. If we are honest with ourselves, there are too many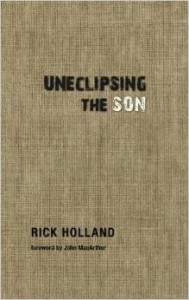 important things in our lives that have replaced what is most important: Jesus Christ. He has been "eclipsed" by things of lesser importance, and we need to "uneclipse" Him. That's why this book was written. Here's how he introduces his theme:
What's wrong with me? I'll tell you; you've ceased to worship Jesus. After all, Christianity is the worship of Jesus Christ. It's the worship of Jesus Christ exclusively, and it's the worship of Jesus Christ comprehensively. He alone is worthy; He alone is God. (p. 9).
He concludes that thought with this statement: Don't let Jesus be crowded out. I'll tell you how this book challenged me to stop letting Jesus get crowded out of my life.
First, I was challenged in that opening chapter when he speaks about the abundant life from John 10:10. The abundant life is an exceptional life. Has the gospel made my life exceptional? I know that I have an abundance of resources (maybe even over-abundance!), but I struggle to say that my life is exceptional as Holland explains it. In the final chapter, he talks about the struggle. Struggle is good. It shows that you are running the race and not just sitting back. That's good! But I still want more! That's also good! I should always want more. But sometimes I let my abundant resources be the "more" rather than just letting Jesus Himself be the "more."
Second, I was challenged by Holland's description of eternal life in the third chapter. He says that Christianity is "a lifetime pursuit of knowing Jesus," using Paul's words as an example in Philippians 3:7-8. We need to get rid of everything else, count it as dung so that we can know Christ. "Everything in Paul's life is disposable except Jesus" (p. 33). I am again reminded about the importance of knowing Jesus is top priority, and not just knowing about Jesus. That concept of making Jesus precious is a renewed call for me. Am I treating Him as precious?
Here is a third challenge for me. Holland teaches about fighting sin and putting it to death. I cannot just focus on fighting sin; I also need to focus on Jesus. Commenting on Galatians 5:24 and crucifying the flesh, he says this: "It is Jesus' ownership of our lives that flexes the soul's muscles to fight against the flesh. Fighting sin is not the stuff of will power; it is the result of Jesus' power, uneclipsed" (p. 90). Then he refers to Romans 14:13 where it tells us to make no provision for the flesh. I liked the concept of the word provision as meaning "forethought" or "strategy." I need to make strategies for pursuing Christ so as to not "indulge in fleshly gratification" (p. 91).
A fourth challenge came in the area of evangelism. In the final chapter Holland builds on this idea of Jesus being precious. I need to be talking about Jesus from the overflow of my heart, to talk about Jesus because He is precious to me (p. 127). Personal evangelism becomes something that is natural because I always want to talk about Jesus if He is precious to me. That's what people do when something is precious to them. They talk about it! I need to work on making Jesus precious to me. He needs to be "uneclipsed."
Lastly, I was challenged in the way I think about communion. Holland includes a chapter about the Lord's Table. He says that Jesus knew His followers would forget Him so He instituted the Lord's Supper (Holland titles the chapter "The Lost Supper"). This is a time to count the death of Christ as precious, to examine ourselves and our unworthiness. Here is a formula he suggests: Remember Jesus, Examine yourself, Repeat (p. 119-120). Communion can become a meaningless ritual if I don't constantly follow that formula.
If some of these challenges also challenge you, then this is a book you need to read. I need to read it again. Probably on a regular basis. Why? Because it is so easy to let Jesus be eclipsed by all the other stuff in my life. I just can't let that happen.