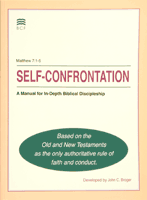 This fall, FBC is offering a women's discipleship course called Self-Confrontation. To some, the name Self-Confrontation might seem confusing and even a bit intimidating. However, once you begin to work through the course, the title actually makes sense. From the title alone, it is tempting to view the course as people confronting each other and their sins, yet it is really a foundational discipleship program. As you begin to journey through each chapter, which build upon each other like building blocks, you quickly realize the Word of God alone is sufficient and has all the answers to life's challenges.
For 23 weeks, you will interact with God by the work of the Holy Spirit, you will confront and deal with your own sins, and you will learn to love God and your neighbor in a deeper and more meaningful way (Matthew 22:37-39). Additionally, you will gain a practical understanding and application of God's design for your role as a parent, wife, mother, friend and Godly woman.
Whatever the study is called, the content is still the same. It is God's Word discipling you at a deep level and then equipping you to disciple others (Matthew 28:19-20). It is learning what sin is and how to deal with your sin biblically. It is acknowledging, accepting and confessing that your sin is ugly and is as serious to God as a serial killer's sin is to a judge (That's pretty serious!).
Because, you see, we all are serial sinners. We all need to confront the sins in our lives that continue to cause conflict between our flesh and His Spirit. We need to live out a life victoriously "in Christ" and "for Christ" and not continue to merely play the 'Christian' role.
In other words, Self-Confrontation teaches the foundations of your faith. It teaches and equips you with:
an understanding of the Holy Spirit and His role in your life (John 14:26)
what the Bible means when it says you are "in Christ" (2 Corinthians 5:17)
the how to of "putting on" Christ and "putting off" sin through the Word of God and the power of the Holy Spirit (Ephesians 4:17-24)
how to be a Doer of the Word (James 1:22)
how to die to self" daily (Luke 9:23)
how to put on the whole armor of God (Ephesians 6:10-18)
how to obey the Word as you live out a life in obedience and victory for Christ (Galatians 2:20)
Self-Confrontation is truly life transforming and we invite you to bear witness to the following testimonies of the power of God's Word at work in the lives of ladies that have previously taken the course. For more information about signing up for the course, visit the church website. (Note: There is also a Wednesday evening class available – contact Gail for more information.)
---
It is truly a special study that pierces the heart and requires you to take action to draw closer to Christ, to put off self and put on Christ daily! I loved the study and would love to see all believers take this study – Kendra Mathis
I would highly recommend anyone doing this study. Knowing man's way verses God's way is key to knowing who God is and your identity in Christ.
This study is life changing, a must do! A book and workbook that walks you through Scripture and helps you see your sin and how to change biblically, how to have victory and overcome sin in your life.
This study has taught me how to apply God's Word and how to obey Him faithfully. It has taught me how to die to self and what that looks like.
I'm getting a better picture of "Who I am in Christ". I am accepted, secure and significant with my Lord and Savior.
Through this study I am being trained to determine biblically whether I am seeking to please myself or seeking to please God in all I think and do. – Sandi Phillips
Outstanding! I highly recommend it for any stage of believer. A true comprehensive study of who we are in Christ. – Laura Hadley
This study has caused me to examine and evaluate my daily walk with God. The biblical principles given to me were laid out in detail. There was much encouragement and solutions were given through Scripture and the lessons. – Ann Orr
This Bible study gives you the tools to look at your life honestly and provides the means by using God's Word to make the changes necessary. It shows you how to improve your life so that you can live it glorifying God.
Transforming! A couple of the areas we studied this year were: (1) when you live by feelings you are unprepared for the daily problems and responsibilities of life. (2) Examine your own life and only compare it to God's standards. Is your view of yourself too high and your view of God too low?
I loved how the study helped me to view every issue in life as a struggle to please God rather than please myself. By focusing on the "put-off, put-on" passages of Scripture, I learned to apply God's Word in an effective, practical way to my daily life. – Sharon