How many times have I said, "Lord, tomorrow I will wake up early to spend time with you!"? But, regardless of my efforts, I can't seem to wake up early enough to escape the relentless demands of my young children. And so I find myself, day in and day out, becoming less able to meet the true needs of those who depend on me and yet more self-reliant as I don't spend time in God's word.
This week, I found myself treading water. I just can't seem to get anything done around the house. My sweet children rely heavily on being with mommy and, even at the park, they won't leave my side! My baby constantly wants to be snuggled and, quite honestly, I'd much rather spend time playing with my children than clean anyway!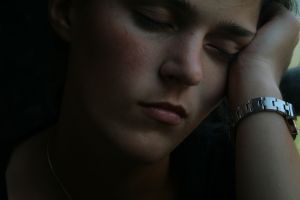 So now I find myself on Friday with a messy home, a missing soccer uniform sock and, worst of all, only moments were spent in the Word this week. So what do I read tonight as I seek a biblical "pick me up"? Philippians 2:12-13, Work out your salvation with fear and trembling!
I'm broken. My attitude towards Christ has been flippant this week. I saw Him as the proverbial Santa Claus, passing out grace and mercy…but godly fear? No godly fear was anywhere to be found.
How did I get here, Lord? What stole my heart from you? How did I stray so quickly? Too much time "checked out," waiting for the perfect "devotional time," instead of seizing the moments I had. Too tempted to check my Facebook when nursing, instead of praying. Too tempted to remember God's grace as a cheap gift, instead of thinking on the true cost of the gospel.
"What am I doing with my life?" I cried out, after putting my little ones to bed. I have been caught in the casualness of suburban 'Christianity'!
As I have been continually forced to reevaluate my days, I have found an opportunity to learn more about full dependence on my creator for daily sustenance. I literally find myself feeling that intense burning that I can't live without HIM!
I am sick of my mediocre Christian walk. I want more! I want to hunger and thirst for God. I want His word to be bound up in my bones so tightly that I must proclaim his truths. I want His passion to consume me! God's word has been like a fire burning away the dross in my heart.
Oh, the beauty of my refiner's fire; let it burn!