Editor's Note: A few weeks ago,
Chris mentioned in his sermon about the sin of boredom
. If you have ever wondered why boredom is a sin, take some time to look through the scriptures below.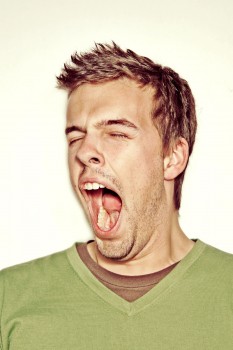 Is boredom really a sin? Well, first let's look at the definition of boredom:
the state of being weary and restless through lack of interest
feeling impatient or dissatisfied, because you are not interested in something or because you have nothing to do. If you want to say you are extremely bored, you can say you are bored stiff/rigid/silly or bored to tears/death
feeling weary because one is unoccupied or lacks interest in one's current activity
In light of that definition, let's take a look at what the Bible says about what should occupy our time, minds and hearts:
1 Thessalonians 5:16 Rejoice always,

1 Thessalonians 5:17 pray without ceasing,

1 Thessalonians 5:18 give thanks in all circumstances; for this is the will of God in Christ Jesus for you.

Philippians 4:4 Rejoice in the Lord always; again I will say, Rejoice.

John 10:10 The thief comes only to steal and kill and destroy. I came that they may have life, and have it abundantly.

Ephesians 5:18:  be filled with the Spirit, 

Ephesians 5:19: as you sing psalms and hymns and spiritual songs among yourselves, singing and making melody to the Lord in your hearts, 

Ephesians 5:20: giving thanks to God the Father at all times and for everything in the name of our Lord Jesus Christ.

Colossians 3:16: Let the word of Christ dwell in you richly; teach and admonish one another in all wisdom; and with gratitude in your hearts sing psalms, hymns, and spiritual songs to God.

Colossians 3:23: Whatever your task, put yourselves into it, as done for the Lord and not for your masters,
Proverbs 3:5: Trust in the Lord with all your heart, and do not rely on your own insight.

Proverbs 3:6: In all your ways acknowledge him, and he will make straight your paths.
Philippians 4:8: Finally, beloved, whatever is true, whatever is honorable, whatever is just, whatever is pure, whatever is pleasing, whatever is commendable, if there is any excellence and if there is anything worthy of praise, think about these things.
Philippians 3:8: More than that, I regard everything as loss because of the surpassing value of knowing Christ Jesus my Lord. For his sake I have suffered the loss of all things, and I regard them as rubbish, in order that I may gain Christ.
If we were fully obedient to scripture and completely in the Spirit, then no time would be left to feel "bored." Instead, we would be glorifying and praising God in every moment, whether we were engaged in an activity or at rest.