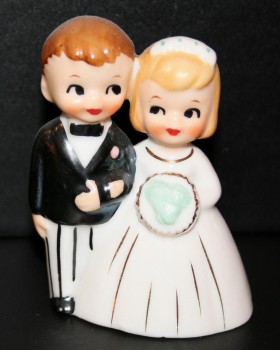 For those of you who are married, think back to the important issues you discussed before your wedding day–things like when and how many children you would have or where you might live.  How about whether or not to keep the same Thanksgiving/Christmas/Easter traditions as your parents?
Unfortunately each partner's spending and borrowing habits are rarely given more than a cursory discussion during the engagement term.  Even less time is devoted to learning about how each other's personal financial habits were shaped.  These topics are usually relegated to sometime well after the wedding ceremony.  Tragically, how to handle the money is often the most difficult issue that partners will encounter in their marriage, and statistics show that serious disagreement in this area has a hand in 85% of all divorces.
It's not unusual for married partners to have contrasting money personalities (saver vs. spender, risk-taker vs. security-seeker).  Add this to the distinct financial habits you each bring to the relationship, and there exists a mixture for some potentially explosive relational issues.  Since each partner in the relationship likely possesses a personal perception and family experiences that are different from the other, with respect to the managing of wealth, it's imperative that you devote a great deal of time to understanding each other.
God meets us where we are right now today.  He can change our hearts, and give us a new perspective to be better stewards of His wealth.  If you have never addressed this issue in a biblical manner, the best place to begin is with confession to one another followed by prayer.  James 5:16 tells us, "Therefore, confess your sins to one another, and pray for one another so that you may be healed. The effective prayer of a righteous man can accomplish much."  [Note:  This is likely not a one-time event, and could take a great deal of grace, transparency and prayer.]