What's the one thing in this universe that, once lost, you can never have back?
Money? No. You can lose all your wealth but get back to work and even have more than you ever had.
Your health? No. You can go to a doctor and get a protocol that can restore your health.
Possessions? Nope. You can always accumulate more than what you've lost.
Time. Time, once lost, can never be recaptured. We can never regain our lost opportunity.
We only have one shot, one opportunity, to seize our life for the glory of God. Time is the most precious commodity God has given mankind. But, it is our responsibility to maximize it.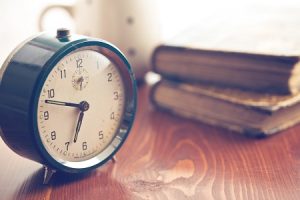 The Greeks use a few words to describe "time." In Scripture, kronis is used to refer to a clock, time on a calendar, or minutes and hours. This is where we get chronology, which describes the flow of events in history. However, in Ephesians 5:16, Paul commands us to "redeem the time" and uses the word kairos, which means eras or epochs or opportunities. In other words, we are to redeem—purchase for ourselves—the opportunities, the moments that can be grasped for God and for good and to bring glory to Him.
Kairos comes from Greek mythology where they named their young beautiful god of "opportunity" or "favorable moments." His statue stood at the very center of one of the ancient Greek cities, and he was carved and chiseled by a man named Lysipus. Lysipus made him to have have wings on his feet, a great lock of hair in the front and bald on the back. At the base of the statue, Lysipus recorded the dialogue between him and Kairos: "Who made thee? Lysipus made me. What is thy name? My name is Opportunity. Why has thou wings on thy feet? That I may fly away swiftly. Why has thou a forelock? That men may seize me when I come. Why art thou bald in back? When I am gone by none can lay hold of me."
The best time to seize the opportunity or time or our life is today. We only have one life to live, and it is only during this life that we have the opportunity to make the most of it and seize it for the glory of God. That goes with the holiday season we are embarking upon. Every season is an opportunity to make the most of time, redeem it, and use it for God's glory. The holidays are a favorable time of the year because hearts become ripe for the gospel, but we must sow and water seeds for the gospel of Christ. Only then we can pray that we will harvest and reap what we have sown. But we need the workers—us, the body of Christ—to make the most of it.
Will you?
Ephesians 5:16, is preceded by verse 15 that commands every Christian who walks in light to walk wisely. The wisest Christian is he who values his time and makes the most of it—redeems it. Foolish is the man that plays the fool with time and opportunity. It is with time that men play the fool more than any other thing. The fool's misuse of time is his greatest crime. Psalm 90:12 says, "Teach us to number our days, that we may present to you a heart of wisdom." The wise Christian will number his days and, by the redeeming power of Christ, redeem it for His glory and the good of man. John Macarthur says this, "Wisdom sees an opportunity for good and grasps it because that's the opportunity for God."
What's the wisest use of our time? Proverbs 11:30 says, "and he who is wise wins souls." Therefore, we can say that a wise man will seize the season to win souls for God, for His glory, and for their good. Thus, with the fall festival around the corner, and the holiday seasons approaching us quickly, I challenge us to redeem the season for Christ's glory in sowing gospel seeds.
We have many great examples around our body, like the use of the ice cream truck and other individual efforts. I also recall what my orthopedic surgeon Christian friend of mine did this past Easter. After being convicted by the Spirit to reach his lost clinic and hospital staff, he invited them all to his house, where he hosted a jolly jump and games for kids and an amazing taco guy. He didn't stop there; he rented a party bus so he could haul everyone to church service afterwards. WOW.
Not all of us have the big and outgoing personality that he does, or can afford to pull off such an ambitious endeavor, but most of us don't try anything at all. Here are a few ways you can begin to start by simply inviting. Make cookies for your neighbors and invite them. Say hello. Use your resources. Use your gifts. Pray for them and your opportunities.
The greatest commandment is to love God, but the second, to love our neighbor, is equal to the first. To give them an opportunity to be around the body of Christ and hear the gospel of Jesus Christ, the Lamb who has covered all your sins, is the greatest way you can love them and the best way to use the seasons. Don't miss the opportunity; redeem it in His spirit to His glory.