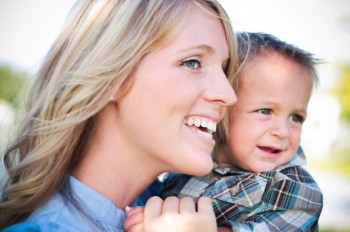 As often happens, Elijah was crying when we pulled out of the church parking lot, but this time it wasn't because he was leaving his Mammy and Pappy. It was because he was missing the "baptism show." He kept saying something about sisters, but I was only half listening to him as I went through a mental timeline to make sure I could get everything done that day.
As we pulled into the grocery store parking lot, it finally hit me – Elijah wants to go to the baptism, because he was invited to see two of his Sunday School teachers be baptized! By this time, he was hysterical and being extremely unkind, so I couldn't go back to church…and my heart was broken with guilt, so I didn't want to go shopping either! I decided I had to just get a few things, but Elijah was determined to make it a very difficult shopping trip.
When I walked in the door at home, my husband immediately noted my countenance and asked what was wrong. By that point I wasn't even sure. I felt anger (yes, at a 3 year old – who gets mad at a 3 year old?), shame, guilt… I needed a few minutes alone. My husband took Elijah to talk to him about his behavior, while I went into another room to think about mine. As the Holy Spirit convicted me of my sin, I was broken. Why didn't I take the time to listen to him when he was talking? He just wanted to see his teachers be baptized! Why would I be upset with him for being a sinner? He's not even a believer yet! I'm a believer and I sin, so why would I expect more from him at 3 years old than myself?
I went upstairs as he was coming down to get me. Elijah wanted mommy to read to him before naptime. He still loved me! I scooped him up into my arms and took him outside to confess my sin and ask for his forgiveness. He wiped away my tears and soon we were laughing together.
God brought me closer to the cross that day. I saw a new depth to my sin that I hadn't seen before. Oh! How quickly my heart exalted myself above my own child. And yet even in that time of great sinfulness, God blessed me. God gave me the opportunity to model true repentance to my son, and now we are bonded in a new way. My little boy seemed to be truly sorry for his behavior too, which is a lot for a 3 year old! I am reminded that training up a child isn't just what we say to them, but it's allowing our children to see how Christ is working in us. I am truly thankful for the opportunity to show my son that my faith is real.
Train up a child in the way he should go; even when he is old he will not depart from it. — Proverbs 22:6