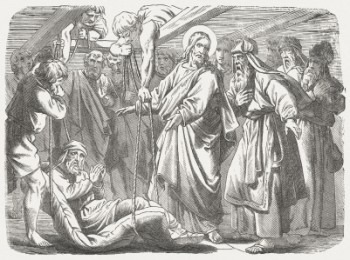 "Son, your sins are forgiven."
Pretty powerful words, huh? I had learned the story of the paralytic from Mark 2 many times since my childhood, and somehow missed the great lesson on God's forgiveness embedded in the text. Chris's sermon on Sunday revealed the richness of this interaction with Jesus.
Don't get me wrong, I didn't miss that the paralytic's sins were forgiven. I was able to glean AT LEAST that from the text on my own (as you can see, my powers of observation are astute). What I missed was exactly what the interaction revealed about Christ's forgiveness for all believers—not just the paralytic.
Chris pointed out that this text reveals that Christ's forgiveness is intimate, an undeniable fact, accomplished, enduring, repairing, comprehensive, deliverance and Christ's emphasis. What struck me was not that I missed these truths the many times I have read this story before, but how much I miss them in my daily life.
Do you walk in forgiveness? No, really… do you? That was the question on my mind after mulling over what I had learned in Mark 2: 1-5. In that list, which is the hardest truth to embrace daily?
For me, seeing Christ's forgiveness as "freeing deliverance" can be a struggle. Whenever I sin in a familiar area, the guilt of the sin is often compounded with remembering all of my similar past failures. In my heart, it feels as though God is displeased with me for EVERY time I have failed, and this latest sin is just adding to His disappointment in me.
Thankfully, I know the truth. When those moments hit, I have learned to counsel myself with verses like Psalm 103:12. I also know the truth of Colossians 1:22:
"…yet He has now reconciled you in His fleshly body through death, in order to present you before Him holy and blameless and beyond reproach…"
God sees me as Christ, and because of Christ's sacrifice, He does not count my sins—past, present and future—against me.  I can walk in "freeing deliverance" because God has said to me "daughter, your sins are forgiven."