The conference started today and was excellent!  We're now back in our rooms, worn out & ready for bed.  Here's a brief recap…
AM — Had the free breakfast at our hotel, then rode the L train to downtown.  Ended up meeting a couple pastors from Seattle area and talking with them for the whole ride – a PCA guy named David and a nondenominational guy named Dan — very nice guys & clearly good friends.
Once downtown, we walked around a bit, then went into Macys on State St.  Apparently, its the second largest departement store in the world.  It was definitely big.  I think Herod's in London might be bigger.  The goal of our stop there was to visit a store inside of it.  Here's the bag, can you guess/read it?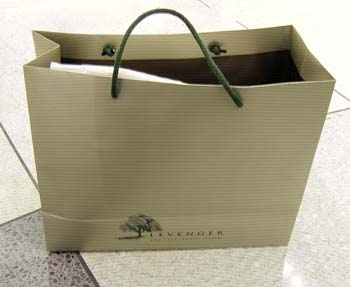 Levenger.  They make great stuff for reading & writing — pens, paper, notebooks, etc.  Very cool stuff, though a bit spendy.  If you stop by the retail store, they give you a free custom Circa notebook, so we each had them make one for us.  🙂
After that, we walked around downtown for a while longer, taking in the sights, the sounds and the surprising lack of smells.  We probably walked over 3 miles total, doing most of the Magnificent Mile and then walking back to our L stop.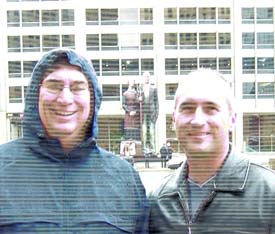 My digital camera is on the fritz so I've taken a fair number of pictures but hardly any have come out.  This is the best, which isn't saying much…
After our brief excursion downtown, we headed back, grabbed our stuff and got ready for the start of the conference.  Here's a brief rundown on who & what we heard over the rest of the day:
Session 1 = Tim Keller = Paul demonstrates that any effective ministry of the gospel will go after the idols in culture and the heart.  Drawing especially from Acts 19:23-41, Keller described how to discern, expose and destroy such idols.   It was excellent!
Session 2 = John Piper = Kicked off the exposition of 2 Timothy, preaching from 1:1-12.  He really worked through the text in a helpful way, describing how the white hot flame of God's gift to Timoty would be fanned to fire by the grace of God found in His Word, so that Timothy would have unashamed courage to speak openly of the Gospel and to suffer for it.
Dinner break = hopped in a cab to go to Portillo's and learned that it'd take 30-45 min and cost $25 each way.  Two other guys from the conference also had climbed into our cab and were being driven to Giordano's.  We asked for Gino's East and the other guys joined in — two youth pastors from Philadephia – their names escape me right now, but both seemed like good guys, one was a TMS grad.
Gino's East Pizza is the other style of classic Chicago pizza pie.  While delicious, I think Giordano's retains my preference as the best I've had.
After dinner…
Session 3 = Phil Ryken = Ryken took over at 10th Presbyterian in Philadephia after James Boice died.  He preached from 1:13 – 2:13, expositing the mandate for faithfulness in ministry.  I'd never heard anything by Ryken before — he worked carefully from the text and at the end, caught fire a little as he spoke of God's faithfulness, even when we are faithless.
Session 4 = Mark Driscoll = Driscoll preached from 2:14-26 and was very engaging.  He did not spend a lot of time working through the interpretation & meaning of the passage, but dwelt long on the application of the passage to life & ministry.  It sounded as though this was an area where he felt inadequate and under conviction of his need to grow.  In fact, as he described how this passage was assigned to him, he remarked that him being invited to come & teach this passage was similar to inviting a drunk to teach a sobriety seminar.  😀
Chris and I then chatted with an old friend who now serves at Desiring God in Minneapolis, and then headed back to our room for a bit of rest.  Tomorrow holds the promise of much more.  Thanks for your prayers for us!  We miss you and are looking forward to being at home with you on Sunday, at church.