 It's after 11pm on Wednesday and the second day of the conference is winding down.  It has been a good day.  Both Chris and I have stayed up late for the last couple nights and woke up fairly tired today, but God sustained us and gave us (increasingly) sharp minds & hearts.
Here's a brief run-down on what we heard & did:
1st Session = K. Edward Copeland = taught on 2 Timothy 3:1-9.  Really pushed us to understand that ministry is tough & will be tougher in the last days, but that the end is written and the King will win, so our ministries should be bold & courageous in light of the coming conclusion.
2nd Session = Bryan Chapell = FWIW, he has GREAT books on preaching and on using illustrations in preaching.   Teaching from 2 Timothy 3:10-4:5, worked to demonstrate how a faithful preacher speaks God's Words directly to the hearers.  The Word reveals the voice, hand and heart of God to sinful people in order for them to see & love Jesus.
Lunch = we grabbed lunch at the convention center & sat in on a walkthrough of Logos Bible Software.  We both already use it, but always appreciate seeing demos to learn more about how to use it.  It's like the Photoshop of Bible Software.  LOTS of capability and always learning some new feature that we've never discovered before…
Workshop 1 = Josh Harris – taught on ministering in a church-hopping society.  Josh took us to Heb 10:19-25 to show the connection between holding fast to the gospel and being involved in a local congregation.  He then unpacked how to minister to, teach and be an example to people uncommitted to a local church.
Workshop 2 = CJ Mahaney – was scheduled to teach on Trinitarian Pastoral Ministry and decided to change topics.  🙂  Instead, he taught from 1 Peter 5:1-4 on Peter's charge to elders to shepherd, as its given in the context of suffering.  He talked through the task, manner & reward of faithful shepherding.  This message was OUTSTANDING – definitely a highlight.
Dinner = our brains and hearts were saturated and our rear-ends were sore, so we skipped the evening seminar and headed downtown to walk, talk & eat.   We walked a couple miles, ate at Portillo's (famous for their Chocolate Cake Shake – delicious!), saw the Water Tower (pictured below with Chris clowing around in front), and had a Pomegranite tea at Argo Tea (whom I really hope will open branches on the West Coast one day).  We talked through things we'd been hearing at the conference and about future things that we're praying about for FBC.  A great & refreshing evening!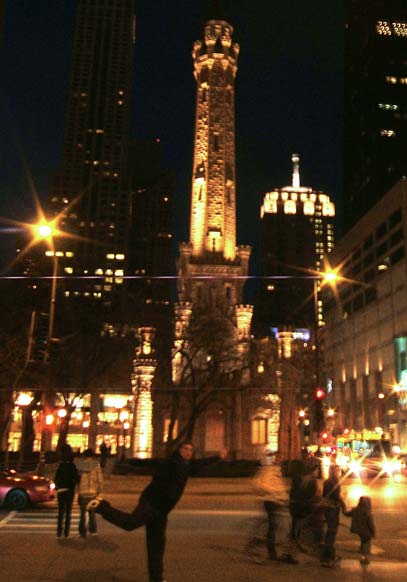 And now, it's near midnight and we're both exhausted.  Last day of conference is tomorrow, so time for bed so that ears & heart are fresh for the morning.  Thanks for your continuing prayers on our behalf!