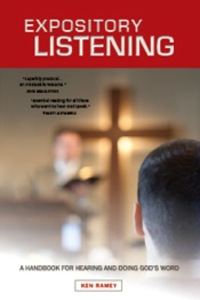 Series Introduction: Recently our new Associate Pastor, Nigel Shailer, challenged us to be "Community Listeners" as we hear God's Word taught each week. Focus, the ministry to Seniors at FBC, has been working through this topic following Ken Ramey's book Expository Listening. This series of six articles comes from that study.
Ken Ramey teaches us how to listen to the preaching of God's Work in his excellent book Expository Listening. Over the next few posts, we will be looking at what the Bible says about hearing God's Word. There is a big emphasis on not just hearing, but also obeying it, practicing it, doing it. We will be studying some of those passages and applying those principles to our personal sermon listening. But we will begin with establishing what he calls a Biblical audiology: the study of hearing God's Word. Why should we do it? Let's look at five reasons.
First, God gave His Word to us. In 1 Timothy 3:16, we are told that God's Word is inspired, literally "God-breathed." They are the very words of God. Of course, that means that the teacher has a serious responsibility to be faithful in proclaiming, but it is also a serious responsibility for the listener to hear it. In our study we will focus on what it means to actually "hear" God's Word.
In 2 Peter 1:20-21, we discover that scripture came to the writers as they were moved by God, which tells us how God breathed out His Word. What we hear when listening to an expository message is God's Word. Of course, human teachers are subject to error, but as they are faithful in preparing and presenting the Word of God to their audience, it will be their intent to accurately present God's message. We do well when we act like the Bereans (Acts 17:11) to search the Scriptures and evaluate what we hear against what the Bible says.
Second, we have not obeyed God's Word. This was the practice of the first people God created. They knew God's Word, and they chose to disobey it. The same is true of every human being ever since. Ephesians 2:1-3 describes the sinful condition of every person: we are all dead in our transgressions and sins. Romans 5:12-21 makes it clear that this is the result of Adam's sin. Every person since Adam has been born with a sinful nature.
Third, God has saved us with His Word. In fact, it is the Word of God itself that brings us salvation. 1 Peter 1:23 is very clear: "you have been born again not of seed which is perishable but imperishable, that is, through the living and enduring word of God." Romans 10:17 also tells us that our faith comes from the Word: "faith comes from hearing, and hearing by the word of Christ." The "word" is actually referring to the spoken word (rhema) in contrast to the message (logos). The early church did not have a written word; God's Word was spoken to them through the apostles and teachers. The spoken word was used to bring them to faith in Christ, and it still has that same power today.
Fourth, God enables us to understand His Word. As children of God we receive the divine help of the Holy Spirit. Jesus taught His disciples in John 16:13 that the Holy Spirit would guide us into all truth. In 1 Corinthians 2:11-13 we are told that the Holy Spirit gives us the ability to comprehend those things that God wants us to know. Without the Spirit, we are unable to understand the things of God – until we are born again, the Bible is foolishness to us. But when we are given new life, our eyes are opened through the power of the Holy Spirit in us to understand the truths of scripture.
Fifth, God blesses us when we listen to His Word. This is the part that we may intellectually know, but we end up ignoring. We do a lot of listening. We hear a lot of sermons and Bible teaching from many different sources. But the Bible teaches that we are only blessed if we "do" them. Consider Luke 11:28, where Jesus said "…blessed are those who hear the word of God and observe it." And when Jesus was told that His family was outside, he said, "My mother and My brothers are these who hear the word of God and do it." (Luke 8:21).
When the Bible talks about "hearing" the Word of God, it is clearly implied and often explicitly stated that it comes with the responsibility of doing something with that new knowledge. That will be our emphasis as we continue our study on this topic in future posts. When we are finished, we will hopefully be different types of "listeners" than we have been in the past. We will not only listen, but we will be prepared to listen, and we will do something about what we have heard.