Our 200+ students awoke refreshed and renewed Saturday morning after enduring a long, rambunctious but safe, bus-ride on Friday afternoon. They will have enjoyed 4 delicious square meals already by the time this post is read, which fueled their participation in a wonderful Saturday of camp.
The day began in their temporary tent cities with the Camp Morning Show, which broadcasts the entertaining ramblings of Jon Stead and Josh Petras and Co. At the end of the show, breakfast is served and then its Bible time, with the kids undoubtedly considering the teaching they had heard the night before by our camp speaker, Kurt Gebhards. Kurt is the pastor of Hickory Harvest Bible Chapel in Hickory, North Carolina. He went from Mark chapter 2 and our desperate need for Christ (as the paralytic man was desperate) on Friday to Saturday morning's session on the condition of our hearts in Mark 7; 14-21, comparing our hearts to port-a-potties, defiled and in need of the cleansing work of Christ.
Each session begins with corporate worship with Tyson and the band from Rancho Community Church, followed by some fun on-stage games for the students. Kurt has them tuned in during the messages and then the students meet in groups to discuss with a staff leader the implications and applications of the Word.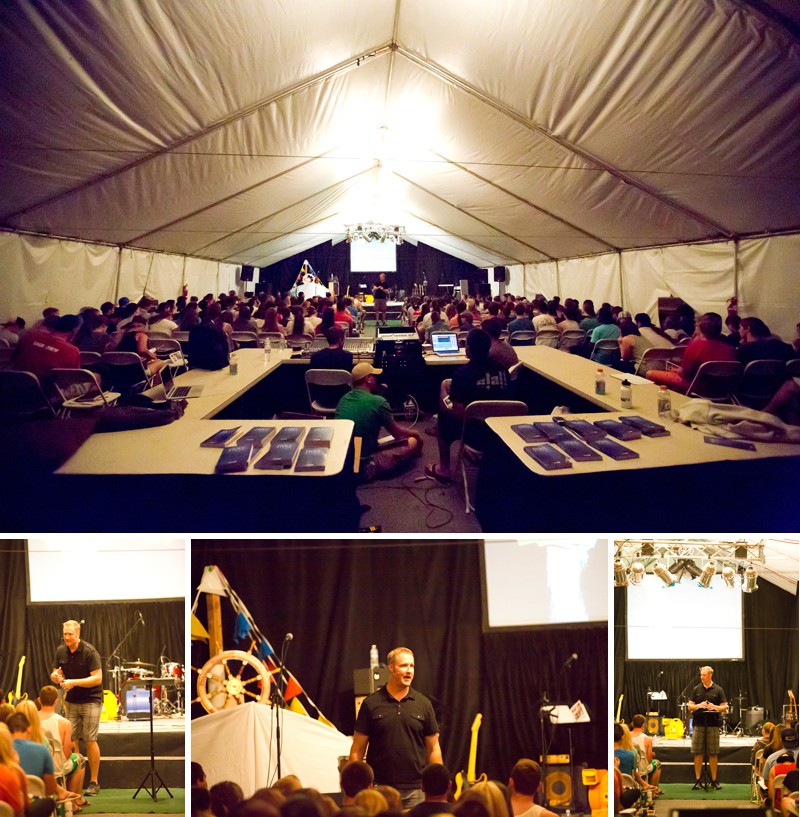 Today was very toasty out on the grass where teams of students competed in Mayan football, human bowling, ran our famous gauntlet and many other fun activities. The casualties were at a minimum with a few minor cuts and bruises and an occasional bee sting. Evening cooled things down enough for a pleasant outdoor meal of spaghetti and meatballs. The meal was followed by more worship under the big top including another message by Kurt about the righteous wrath of God, especially targeting church kids from Hebrews 7. After this, dessert is served and everyone mills around. One of the sweetest things during this time is to watch our youth staff pursue intentional conversations with various students!
Cabin time and collapsing into sleeping bags happened around 11:00 Saturday night. They will need to rest up for today's activities of paintballing, various field sports, and, of course, time on the lake!!!
Join us in prayer for your students, their friends and our staff!