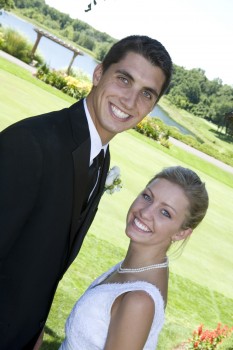 Would those closest to me categorize my life as one of "joy inexpressible"?
One day I KNOW they would was my wedding day (pictured right). I could hardly contain my joy as I said my vows to the most incredible man I have ever met.  The moments together at the front of that church are among my most treasured memories.
It is no wonder, then, that Jesus used the example of a wedding party in Mark 2:18-22 to explain the reason His disciples weren't fasting. Weddings are events categorized by joy, and our life in Christ should be the same. As Chris pointed out in his sermon, Christians often miss their call to joy and become "dill pickle Christians" bogged down in legalism and the day-to-day struggles of life.
When contemplating my life and the joy of the Gospel, I went to 1 Peter 1: 6-9:
"In this you greatly rejoice, even though now for a little while, if necessary, you have been distressed by various trials, so that the proof of your faith, being more precious than gold which is perishable, even though tested by fire, may be found to result in praise and glory and honor at the revelation of Jesus Christ; and though you have not seen Him, you love Him, and though you do not see Him now, but believe in Him, you greatly rejoice with joy inexpressible and full of glory, obtaining as the outcome of your faith the salvation of your souls."
What I love about this passage is how clearly it addresses the trials we are facing and the joy we should have because of the Gospel. Peter doesn't deny the fact that trials will come our way. Simply denying trials or trying to "look on the bright side" of them is optimism, not faith. Instead, God calls us to face our trials head on, but with HIS perspective.
For me, this perspective is two-fold. First, it involves seeing my life here on earth as a blip in comparison with eternity. That alone gives me perspective in any trial. If I were told that a difficult situation would only last for five minutes, I would be able to endure it with the end in sight. That is how life is as a believer with eternity in mind.
Second, I must focus on Jesus. Look at the last verse in that passage again. I can rejoice because of my salvation. No matter what is happening in my life, it pales in comparison to the joy and freedom I feel as a saved sinner.
God doesn't just give me His joy to get through trials, although going through trials joyously is certainly a blessing. Like Chris said, God gives us joy as an opportunity to show the Gospel to an unbelieving world.
So here is my question for you: is God's joy evident in your life enough to illustrate the Gospel?