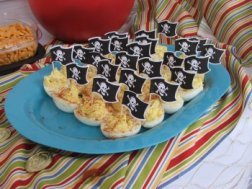 There they were… perfect little toothpicks with small signs hot glued to them. It was my son's first birthday and everything had to be just right! In addition to cooking an entire Mexican buffet for 100 of our closest friends, I spent hours sewing 20 little tool belts for the children. To be honest, that is about all I remember. I actually missed the entire party because I was so busy cooking and making sure everything was perfect. In my heart, I wanted to love those around me and show them hospitality, but I became so caught up in entertaining, that I wasn't actually hospitable at all!
Have you ever felt this way? Perhaps the day after Christmas, you woke up and took a deep sigh of relief, feeling so thankful that it was finally over. I found this to be a pattern in my life. I would pour my heart into an event, but by the time I was done cleaning up afterwards, I was promising myself that I'd never do it again. So what happened? Where was I going wrong? Recently I was struck with the hard truth that I was fooled into thinking I was being hospitable when really I was just entertaining! So what's the difference? To me Hospitality is a focus on warmly welcoming others for the sake of glorifying God (1 Corinthians 10:31) while Entertaining is warmly welcoming others so that they glorify ME. Can you see the difference?
In my pride, I worked to impress others, but in the end it was fleeting. I constantly found myself exhausted and feeling unappreciated. It reminds me of my good friend Martha from Luke 10. When Jesus came to her home, she was distracted with serving. In fact, she became so focused on serving that she had the audacity to confront Christ and say, "Lord, do you not care that my sister has left me to serve alone? Tell her then to help me." To her comment, Christ gently responded, "Martha, Martha, you are anxious and troubled about many things, but one thing is necessary. Mary has chosen the good portion, which will not be taken away from her."
It's easy for me to look at Martha and think, "I would never speak to Jesus that way," but when I'm grumbling in my heart… that's exactly what I'm doing!
I'm not convinced that Martha's mistake was serving Christ, but instead I see her sin as the bitterness of her heart. She wasn't concerned with loving Christ through serving, but instead her focus was on the act of serving and herself. Oh! How quickly my plans unravel when I focus on myself. If I am seeking to glorify God, then I will serve my guests with a delighted heart regardless of the circumstances, but when I am seeking to glorify myself, I find that I am quickly offended when I don't hear constant adoration and gratefulness.
The only way to combat selfishness is to focus on Christ! So my husband and I try to pray before we have others over. We totally steal FBC's line and pray that we would, "make others more like Christ or bring them to a relationship with Christ." Unfortunately, I know my natural tendency is to fall into entertaining and to let go of hospitality, but even if I never hot glue a sign to a toothpick again, if God is proven gracious in my life, then that is all that matters. So I will focus on doing all, even serving dinner, to the glory of God (Colossians 3:23,24).