 Wow, what a day at camp. The games at the beach yesterday were incredible, then we had a short service actually on the beach, off the water, with the sun setting in the back [in their eyes], a little distracting but very New Testament, and taught through HOT, COLD or LUKEWARM from Revelation 2. Camp back to camp, had dessert, then played MIDNIGHT megabox [actually it was 9pm – but the name sounded better] with jungleman Dan leading the games [who's son is that?]
After some discussion, everyone went to sleep and woke up a little bit more tired. Early boat sign ups, breakfast, staff meeting, MAD meeting, and kids fellowship time, then off to the lake for all day boating, beaching, swimming, wake boarding, inner tubing, and TONS of staff student discussions.
I had one new family come to camp, helping out with the MAD CREW who said, I GET IT, I GET CAMP. I FINALLY GET IT. A time away from the routine of life, saturation with the Word of God, life on life discussions from staff, adults, leaders, pastors about the Lord and all the things that matter to HIM. They kept saying to me, I get it, I get it now – how great is this, this is incredible, this is great.
The band this year is COMPLETELY INCREDIBLE, totally focused on worship – great musicians whose music is secondary to lifting up the Lord in praise and focusing on the WORDS of what we are singing – incredible!
I had one staff person and an adult volunteer have an extended time with a student [who had a similar background as the adult volunteer – abuse, wild lifestyle of sneaking out and sneaking boys in her room] have some very serious discussions about forgiveness, obedience, following Christ and more. We had a TON of students who know about CHURCH, but have never really gone to one, who told me today, they want to come to ours – yet they are not yet saved. And this is after teaching them HARD TRUTHS on Lordship, the fruit of salvation, losing your first love and more.
At the beach today, discussion after discussion about spiritual issues took place, finding out where the kids hearts are at. We are praying to water, sow and see fruit but regardless we are rejoicing that we have the privilege of proclaiming the gospel and demonstrating the person of Christ to these students. WHAT AN HONOR TO BE HERE!
Again and again, I am so thankful not only for our adult volunteers – the MAD CREW [Mothers And Dads] but for our high school and junior high staff of committed disciplers. Filled with the Spirit, armed with the Word of God, they are having a dramatic impact on students from horrible homes and students from great homes. They are living out what many of their parents are trying to model, but doing so as a young person – and the impact of that witness is POWERFUL. Sometimes affirming what is being modeled in the home, but sometimes saying and doing what their parents have always said, but finally GETTING IT through a younger example, and sometimes undoing a poor witness in the home and often providing the only healthy parental model the kids have ever seen. I am so thankful for our staff leaders.
It is such a joy to see staff person after staff person meeting one on one with each student all throughout the day, adult servants taking care of boats, fixing lunch on the beach, setting up the sound system, walking around handing out food and water and helping kids put on sun screen.
Pray for us tonight as we open God's Word on complacency – which is where the majority of our Christian kids are at – pray that God would do a great work and change hearts.
We are thankful for you who are praying too.
A fellow slave, Chris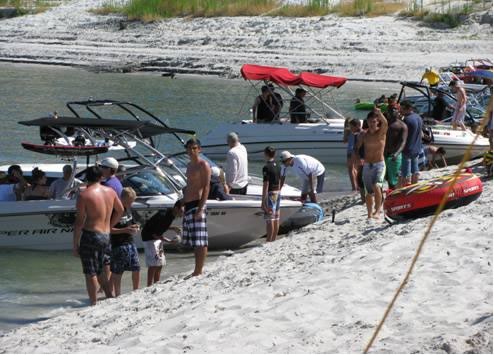 PS – Last night at 11:30 pm I learned that a friend of mine just lost his 18 year old son Hunter to a tragic jet ski accident in Washington state. I called my friend Mark and cried with him and I continue to struggle with a great sadness in my heart in the midst of great hope. Please pray for the Graham family as I fly up and do the funeral this Friday. They all know the Lord and Hunter is with the Lord even now – the family is praying for God to be glorified in Hunter's death but please pray for them too as they rightly work through their grief at losing a son for now.